Nzeta 501 Douglas
The front suspension back together with new shock and rubber.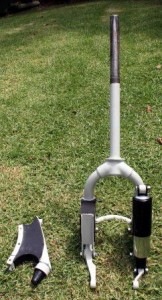 Lots of bits and pieces media blasted and powder coated in as near original colour as I could find.
Brakes relined
New tires bought and wheels rebuilt using nice shiny stainless nuts and bolts.
Aluminum bits apart from engine media blasted – he used a fairly course grit and it is not a smooth as I would like, but guess it will not be seen.
Most of the trim obtained form Neil at Cezeta.com, some new, some re chromed and some will need re chromed. He also supplied kick start, gear change rod, gear lever and foot brake – I had the latter two but were very pitted.
Petrol tank turned from colander to sealed tank – lot of holes, but POR 15 seems to have done the trick.
Bought another air filter housing from Trade Me with a what looks like a NOS metal filter. Guy came round – name of Martin Healy – is restoring an Nzeta.
Also bought a pair of good cleaned up crankcases on Trade Me – just in case