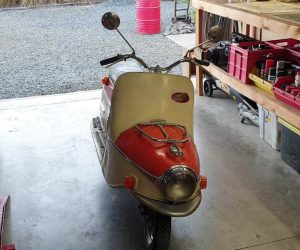 NZeta 502 for sale.
I have owned this 1965 NZeta 502 for 10 years almost to the day. I was going to restore it but as you know life can get busy. I want to pass this onto someone who will restore it.
Since I have had it, I have done nothing to it and it is, as it was purchased.
Today I drained the fuel tank and cleaned it. Serviced the carb and added an air filter, replaced a fuel line and sorted out the cabling for the headlight, one indicator and the brake light. Cleaned the spark plug. Put 2 litres of fuel in it at 25:1 ( the manual states 24:1 but I think 3% would be fine). Installed a new 12v battery and it started and ran fine on the ride up the driveway and back.
It is complete, runs and all the electrics work fine. It has all the trim, a new muffler (off a 501 not a 502 one). It has 13026 miles on the clock. I have a manual and the original ownership papers with the black number plate. There is no rust in it and it is a solid scooter.
The paint is not good. Someone has used a hot glue gun or similar to stop some of the oil leaks under the engine. The indicators and brake light aren't correct but work fine. It has had some damage repair to the right corner and rear of the scooter at some stage. The tyres and tubes will need replaced. The glovebox has an additional hole in it adjacent to where the battery is.
This is the last NZeta I saw on Trade Me – although an earlier model 501 and not a 502. https://www.trademe.co.nz/a/motors/motorbikes/motorbikes/classic-vintage/other/listing/3425038723?bof=zI4cvqaF It was disassembled, had parts missing and was a restoration project. No mention of a VIN or previous registration. It went for $2700.
Douglas sold his 501, restored, for $10,000.
You could ride this as is and be one of the cool kids but for the right person, this is a good project to start with. Yes, I haven't done much with it but not because I can't but because my project list has just got out of hand.
Parts for these are readily available from https://www.jawaparts.com/
I have had lots of enquiries over the years from overseas buyers for parts and complete scooters for sale but would like to see this stay in NZ and get restored. If you are interested get in touch via the contact page. It will be listed on Trade Me at some stage.
P.S Its a winner for tin sign memorabilia "a beauty like no other" could be coming to your shed now. Thanks Douglas.
Now Sold.